Top 1000 Things I Learned During My First Year in SEO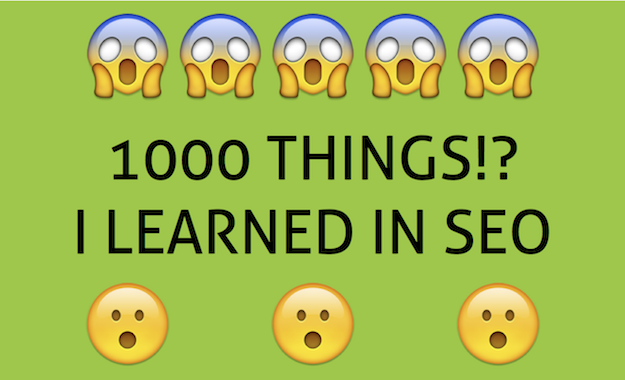 Okay…maybe I exaggerated a bit. LOL Sorry! But it did feel like I learned a 1000 things during my first year and I'd like to share some of them with you. Maybe you're a seasoned veteran or a rookie that just started out but hopefully these insights somehow help you out in your own SEO journey.

Top 6 Things I Learned During My First Year in SEO
The internet is a strange place where strange things happen. And the landscape is constantly changing where there is always something new to learn. My first year as an SEO Engineer was quite the learning experience, a whirlwind of knowledge and skills steadily being learned. It's not a 1000 but here are the top 6 things I learned during my first year in SEO:

1. Get Used To The Lack of A Standard CMS
The most obvious kind of CMS out there is Wordpress and you would think that everyone is using it. I quickly learned during my first month in SEO that this wasn't the case. Many of our clients use Wordpress but a few of them also use Drupal, ExpressionEngine, Weebly, Wix, SquareSpace, OctoberCMS, Shopify, Joomla! - even my digital agency has it's own proprietary CMS (check us out: Treefrog) - among several other systems out there. As an SEO Engineer, we should be able to optimize a website regardless of which CMS is used. However, not every CMS works the same and not all are SEO friendly either. You will have to be flexible and quickly adapt - learn the subtle differences and become familiar with how each CMS operates and the unique philosophies they abide by.

2. You Will Likely Break A Lot of Stuff
I have a solid background in HTML, CSS and a bit of JavaScript from having studied and learned programming both as a hobby and in school, as well as during my youth and for my ill-fated business. (Fun Fact: The first time I wrote in HTML was for my asianavenue.com profile!) But having said that, I still lack proficiency in a few things such as server-side programming, compression, authentications, etc. And with the plethora of different CMSs out there, I found myself breaking a lot of websites just to do a few simple things. Establishing a great relationship with your web development team can ease the anxiety you get as a result of a broken website. Continuously learning about web development - both front and back - can become a tremendous tool in your arsenal. Remember this, the early search engine optimizers were first and foremost webmasters - programmers who hacked and found loopholes in search engines.

3. Suddenly, you're a UX Designer
Although the first SEO engineers were webmasters and programmers, today's SEO world is blurring more and more into the world of user experience design. SEO is no longer about "cheating the system" and finding loopholes in a search engine's algorithm. Rather, search engines are awarding websites that offer the best user experience. Within a few months of working as an SEO engineer, I found myself looking more and more closely at the site architecture of a website. I would imagine how a user would feel going through a website and how optimal of a path I was creating to get them to convert. Suddenly, every single website I came across on a search result, either pissed me off because it wasn't user friendly or made me super happy because it was such a pleasant experience. As I've discussed in a prior post (check it out here: People First, Always!), putting people first into your website design, web development and SEO strategy can go a long way into your overall organic traffic and conversions.

4. Suddenly, you're a Content Writer
Similar to blurring into user experience design, today's SEO world is also blurring to a closer degree with content creation. Search engines want the best, most fresh, high quality content the internet has to offer. Actually scratch that, PEOPLE want the best, most fresh, high quality content the internet has to offer. Creating webpages which contain high quality content that speak directly to one specific user intent are likely to rank high in search results because they deserve to be there. They deserve to be there because the page offers the exact answer to a specific need, offers value and offers emotion to invoke action from the user. Knowing how to create content or working closely with your content creation team can help sustain this need for high quality content. Without content, there is only so much for you to optimize.

5. The Best Way to Stop Spam on Google Analytics
I'm a very data driven person and so, I use Google Analytics profusely to analyze, make recommendations and update websites. Having sifted through several hundred thousands of data points, what irked me the most was the random spikes in traffic as a result of spam data. This was the bane of my existence as an SEO Engineer at one point constantly having to manually clean up data. A task that became insurmountable at times, that I preferred to simply ignore a channel grouping altogether. The many tips online at the time suggested to create exclusion filters. But spammers are tricky fellows and the infinite permutations of spammy domain names would be impossible to exclude. What I found to work best is to simply create a filter that included valid hostnames only. Most of the clients we have only have one domain with no subdomains, so the possibility for some missing data is negligible compared to the thousands of dirty data points caused by spam. On Google Analytics, click on Admin. Under the View column, click on filter. Click +Add Filter and create a filter that includes only valid hostnames (insert your domain). Bask in all the clean data glory!

6. A Year's Worth of Organic Keyword Data
Google is one of those entities that give and take away. In a more happier time, we had all the keyword data available from organic traffic. We knew all the keywords that led to a page, the metrics associated and we could use this data to make further improvements. Unfortunately, Google took that all away…sort of. With the concern over privacy issues, secured searches could no longer track keywords and so, a lot of the data we saw resulted in (not provided). Google however released a new version of Webmaster Tools, now known as Search Console, that still has keyword data. However, it would also still exclude queries from secured searches and would have data only from the last 90 days. But! I found a quick workaround from this. Instead of having to manually download this data every 90 days (especially for those who need this but have dozens of clients), you could automate it. Link your Google Analytics and Google Search Console accounts together. Under Acquisition on Google Analytics, click on Queries. Click on Email at the top menu and create a scheduled quarterly email for a CSV report. Now you'll be automatically sent a CSV file every 90 days. By the end of the year, you can append the data and have a year's worth of (not provided)! LOL

1000 More Things to Learn
I know this wasn't a 1000 things but my first year felt like I learned a 1000 things. And there's probably a 1000 more things to learn on my second year. I hope my experience gave you some useful insight, whether you've been in the business for 20 years, or just started in the last 20 days. The search engine optimization world is in constant flux, changing every single day, all in an effort to provide the best answers to people's questions. These items I highlighted are just some of the many things I learned - from both a technical perspective and more importantly holistic approach.

If you found any of this useful, please share it on Twitter and tag my handle @neillaborce. Or if you have any questions or comments, please feel free to email me at neil@treefrog.ca. As always, seek and you will find.


Neil Laborce.


Written on January 24, 2017
Tweet